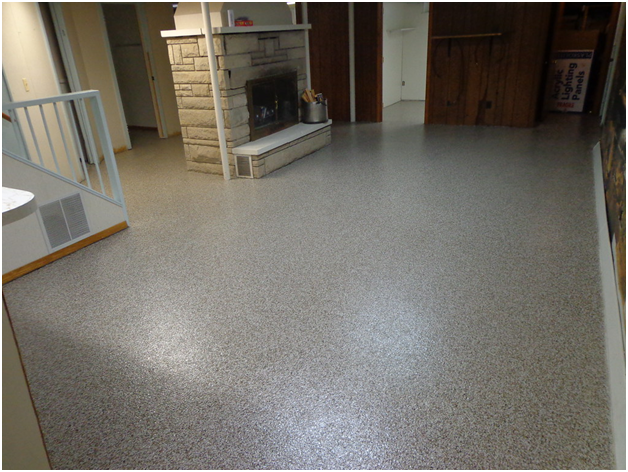 Epoxy flooring may be a good option if you are tired of plain concrete flooring in your garage. A gleaming garage floor can be transformed into a rugged and durable epoxy finish. Using HomeAdvisor, epoxy garage floors cost between $1,447 and $3,006, with $2,227 being the national average.
Aside from being tough and resistant to oil, grease, and chemicals, epoxy floors also resist scuffs and scrapes. There are many colors and blends of decorative flakes available for garage floor coatings. The color of epoxy can also be customized, and it comes in metallic hues.
What is epoxy?
Epoxy is a type of coating that can be applied to many surfaces. It is used both indoors and outdoors as a protective material, and it provides these surfaces with a slick look. The process of applying an epoxy finish consists of either two or three steps:
Base coat
Clear coat
Curing
Base coat
Base coat or primer is the first thing that needs to be applied to the surface. This coats the surface in order to prepare it for the top layer the clear coat. This is done by making sure there are no imperfections or bumps on the surface that may show through when applied over top of whatever was coated with it.
How much does an epoxy floor cost?
Epoxy flooring has become popular for homeowners and businesses because of its durability, easy maintenance, and aesthetic appeal. The cost of an epoxy floor can vary depending on various factors, such as the size of the area to be covered, the type of epoxy material used, and the complexity of the installation process.
The average cost for an epoxy floor is typically between $3 to $12 per square foot. However, this cost can vary based on the following factors:
The size of the area to be covered: The larger the area, the more materials and labor will be required, resulting in a higher cost.
The condition of the existing floor: If it is damaged or in poor condition, it may need to be repaired or prepped before the epoxy can be applied, which can add to the cost.
The type of epoxy used: There are various epoxy materials, each with varying costs.
The complexity of the installation process: Additional costs may be incurred depending on the design and intricacy of the installation process.
It is always recommended to consult with a professional epoxy flooring contractor to get an accurate estimate for your specific needs.
An epoxy flooring system is a coating for concrete floors used in construction. It can be applied to concrete foundation walls, basement floors and garage floors too. Epoxy systems are available in liquid or powder form that mix together and harden quickly into a low-sheen finish that's waterproof and chemical resistant. Applications of the dry mix of polymers and solvents often yield best results when they're rolled on; however it can also be sprayed onto the surface if necessary. The problem with applying by spray is that you have to work fast before it sets, so there's no time for shading or color mixing which makes the process even more expensive.
What is the cost of epoxy flooring per square foot?
Epoxy flooring costs ranges from $4 to $9 per square ft, with installation. The bulk of the expense will come down to labor. However, there are a few things as a homeowner that you can do to reduce these costs and that comes down to floor prep. So, this is a common way to use or to find the cost of epoxy.
Materials used for an epoxy concrete floor
Price Comparison Chart of Various Commercial Floor Coatings by Square Foot
Industry average cost per square foot: $7-$9
Industry average cost of onsite custom coating: up to $20/sq ft
Industry average cost for offsite pre-mixed installation: $5-$10/sq ft
How much does it cost to install an epoxy concrete floor?
Onsite Custom Epoxy
Average cost per square foot: $7-$10 Sq. ft.
Required for a 10′ x 20′ room with 3mm thickness is 300-400 sq. ft. Cost comes out to be approximately $2,100 – 3,000 installed.
Offsite Custom Pre-Mixed/Pre-Flooded Coating
Price Range: $5-$10/sq ft
Sq ft required for a 10′ x 20′ room is approximately 400 sq ft. Cost comes out to be approximately $2,200 – 3,200 installed.
Why epoxy floor is a good choice?
One of the main reasons why epoxy flooring is such a great choice is that it can be applied in just about any area, including warehouses and garages. A concrete floor isn't always ideal for all businesses, especially food service establishments and retail stores.
Another reason is that floors painted with epoxy tend to last longer than other types of coating. There's no need to worry about cracks or peeling, when properly installed, epoxy will keep its color, texture and shine year after year. Even in areas where oil or grease build up is an issue (think, mechanic shops), polyaspartic polyurea was designed specifically to combat such problems.
Read More: How to program chamberlain garage door opener: uses and advantages of garage door opener and other interesting information.
Advantages
It's also incredibly easy to clean; when spills occur, it's best to wipe them up immediately. In addition to the above, epoxy can add a sense of style and flair to any space. The color options available with this material are virtually endless; whether you prefer light pastels or rich jewel tones, we're sure that we have a shade that will match your décor.
You'll also appreciate how durable epoxy is when paired with a concrete subfloor. Unlike other types of coating – think: carpeting epoxy has been specially engineered to stand up against heavy foot traffic without damaging the foundation below.
Not only do polyaspartic epoxy floorings provide an extremely durable coating to garage floors, but they also offer other benefits. Garage floors can be built to withstand heavy vehicles, dirt and moisture. As vehicles drive over the polyaspartic epoxide, heat is generated because of friction.
This heat will activate the curing process; other types of garage flooring cannot achieve their full hardness unless heated artificially with a torch or in direct sunlight. Additionally, this type of application provides ease-of-maintenance. Many stains that would penetrate into concrete are completely repelled by the epoxy surface. Even oil spills or gas leaks may not harm polyaspartic epoxy; simply wipe up any fluids and let it dry before driving on it again.
Why epoxy is attractive?
Polyaspartic epoxy flooring is very attractive. Polyaspartic epoxies are available in an array of colors and patterns to fit any decor. Many customers choose garage floors that match the color of their vehicles or motorcycles for an eye-catching appearance. Epoxy coatings have developed a reputation as being extremely durable, so customers are willing to pay top dollar for it when used on other surfaces in their homes.
While some styles can be pricey, most customers will find that the price is worth the benefits they receive from it . Additionally, with DIY kits readily available motorcyclists have no excuse not to give this flooring application a try! Be sure check out our polyaspartic flooring kits today.
Epoxy Flooring Applications
When it comes to garage floor paint and coating, polyaspartic epoxy has long been a top choice for its durability and aesthetic appearance. For this reason, many motorcyclists choose to invest in this type of application.
Frequently Asked Questions
What is the average cost of epoxy basement floor?
$7.15 is the approximated cost for the epoxy floor. You can make it expensive according to your need.
What is the best thing about epoxy floor?
The best thing about epoxy floor is, it prevents from leakage. And it also protected the floor from moisturizer.
Apart from this if you are interested to know more about Epoxy Basement Floor then visit our home improvement category.