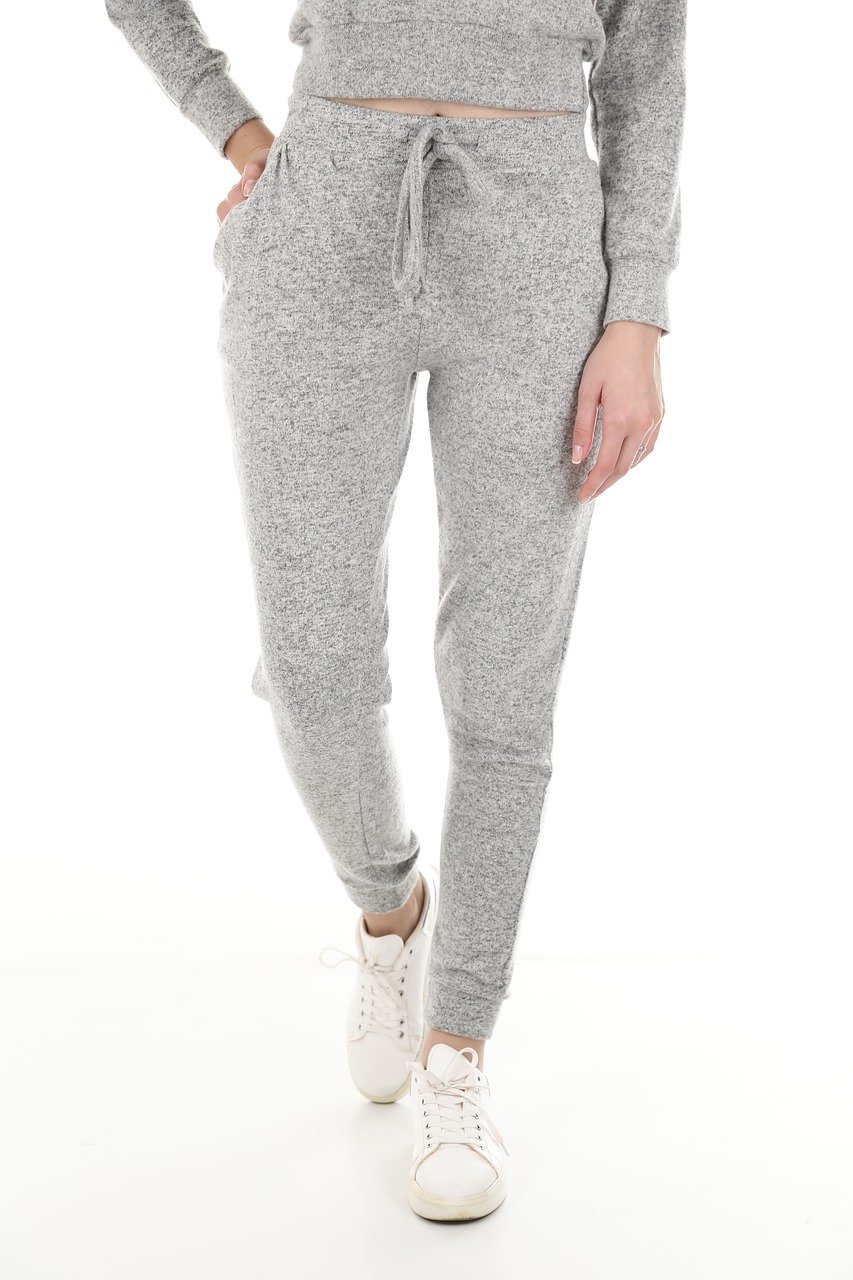 Sweatpants are casual soft trousers initially designed for comfort or sports purposes, but they are now used in various contexts. They are known as tracksuit bottoms in the United Kingdom, Ireland, Australia, New Zealand, and South Africa. They've also known track pants in Australia and New Zealand.
Origin of grey sweatpants
Émile Camuset, the creator of Le Coq Sportif, developed the first pair of sweatpants in the 1920s. These were basic grey knitted jersey trousers that permitted athletes to move and run without restriction. By the late 1930s, sweatpants became widespread in the Olympics, and many competitors wore them in the following decades. Sweatpants became popular as both leisurewear and streetwear in the 1980s, thanks to the emergence of gym culture and the birth of hip-hop. College students have also boosted sweatpants' appeal in the United States.
Despite their popularity, sweatpants were frequently ridiculed in the mainstream press in the 1990s and early 2000s; in the American comedy Seinfeld, the titular character, Jerry, informs his pal that when he wears sweatpants, "you're telling the world you've given up."
Designs
Sweatpants are often fashioned from various weights of elastic knitted jersey materials. They are pull-on type pants with a drawstring closure and a flexible elasticated waistline. At various hemlines of the leg, certain sweatpants may have elasticized cuffs. Sweatpants used to be ash grey in hue but now come in various colors. Sweatpants, which were once known for being "baggy" and loose, are now accessible in more form-fitting styles, as well as flexibility and comfort.
Sweatpants come in a variety of styles, each of which has grown into its own category of sports pants. Fashion trousers, windpants, tearaway pants, and muscle pants are examples of these varieties.
Sweatpants in style
Fashion pants are often used to describe fashion-conscious athletic attire. These pants come in various fabrics, such as velvet or satin, and come in several color combinations and designs. Fashion pants usually don't have an elastic band around the ankles, differentiating feature. They are classified as athleisure clothing.
Windpant
Windpants are identical to sweatpants, except they are lighter and protect rather than insulate the user from the chilly wind. During walking, the inherent friction of the nylon cloth against both itself and human legs produces "swooshing" noises. Windpants often include zippers on each ankle, allowing athletes to unzip the bottom of each leg and slide the pants over their shoes.
Tearaway pants
Tearaway pants are very similar to windpants, as discussed earlier. It has another name as rip-off pants and popper pants. Windpants with snap closures along the length of both legs are known as tearaway pants. Thanks to the snaps, athletes can quickly remove their tearaway pants to compete in several sports. Basketball and track and field are the two sports with which tearaway trousers are most popularly identified.
Types of grey sweatpants
Sweatpants with a Basic Length
These sweatpants are created in a typical length, not too small, not too long, and the cuffs at the end of the pants are similar to the cuffs on most other types of sweatpants. These pants have a specialty that they are very comfortable, they are not so tight and not too loose, and everyone can carry them easily. You can wear it with your boots, flats or any other shoes.
Sweatpants in a basic length are great to wear around town for shopping or brunch, and if you find the correct brand and style, they may be a little dressier. Because they are both stylish and comfy, they make an excellent go-to pair of pants when you need to put something on them before heading out the door.
Sweatpants with Cropped Legs
The sweatpants are straight. It is sometimes also called Capri because it has a similar style to Capri. These pants can wear during relaxation time or sports time. It is best for both purposes. These pants have soft material, and they are available in different colors. You can choose your favorite one. They are available in a variety of colors, that is why you can wear them with different types of tops.
They usually feature a drawstring or stretchy waistband, making them simple to put on then and take off, and they go well with shoes or even flats. Cropped sweatpants are suitable for specific seasons and may be worn when the weather is warm or even chilly, making them a highly adaptable pair of trousers.
Sweatpants with Drawstrings
These are some of the most prevalent sorts of sweatpants, and if you want sweatpants that are a bit more distinctive and convenient, this is a style to consider. The drawstring is lengthy and easy to operate, and its main benefit is that it allows you to make the trousers as tight or as looser as you desire.
This means that if you overeat at lunch, you may quickly adjust the waistline and feel more comfortable right away. The drawstring waistline may also provide a dressier look than a standard elastic waistband, and they are among the most comfortable pants available.
Sweatpants with Elastic Cuffs
The sweatpants have cuffs also. These are designed for a better look. It is designed to tighten a particular portion to look more classy and graceful than before. Another advantage of cuffs is that the ends will be closed so that no cold air passes out, and you can wear them in winter also. They may also offer the trousers a dressier look while not making you feel restricted when working out at the gym. Sweatpants with flexible cuffs offer your pants a great aesthetic while providing excellent comfort.
How do girls wear grey sweatpants?
Grey sweatpants are a comfortable and stylish for girls to wear in casual settings. Girls can wear grey sweatpants in various ways, depending on their style and the occasion. One popular way to wear them is with a simple t-shirt, crop top, and sneakers for a sporty look. This is a great outfit for running errands or going to the gym. Another option is to dress them up with a blouse, sweater, heels, or ankle boots for a more polished look. This outfit is great for a casual night out or a low-key date.
Girls can also experiment with layering when wearing grey sweatpants. They can add a denim or leather jacket over their top or throw on a cozy cardigan or hoodie for a more relaxed look. Accessorizing with a statement necklace or earrings can add flair to the outfit. Some girls even like to pair their grey sweatpants with a stylish beanie or hat for a more laid-back vibe.
Frequently Asked Questions
Is sweatpant still trending?
Yes, they are in trend and people like this a lot.
Does it have any use in athlete?
Yes, there are different types of sweatpants, made for different purpose. They are also design for athlete purpose.