Featured
What Is Home Elevator? How Much Does A Home Elevator Cost?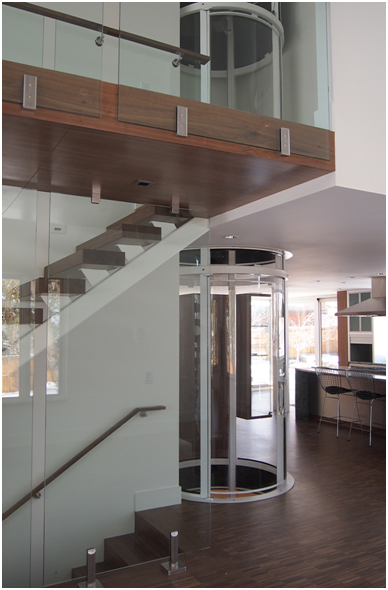 Introduction of home elevator
Home elevator is designed for the ease. It is designed specially to move from one floor to another. The owner of house feels comfortable with this facility. It is basically for the primarily residential use. It is also designed in private apartments. This home elevator is very useful.
This is best for the old people, disabled and those who have mobility or joints issues. So, these people can use elevator and this facility gives them comfort. Now, residential elevator is developed with new and convenient features. All this depend on the owner of house that which type of elevator he/she wants to set in his/her house. The elevators which are in offices, commercial buildings, schools etc are totally different according to home elevator. Size and shape of home elevator is also unique.
Type of home elevator
There is different type of home elevator. Different elevator has different size and shape. Some of them are listed below.
Hydraulic cable elevator
Non hydraulic cable elevator
Chain elevator
Pneumatic elevator
1. Hydraulic cable elevator
Hydraulic cable elevator is of different types. It requires lift shaft, pit or room. This requires a motor by which pull the lift upward and go back to the downward. The motor or the drum is placed in the bottom of pit. Or if it have wires they also located downward of the room. The hydraulic elevator is expensive because the wires become stretched and after every five year these wires must be changed. So it is a costly elevator. This changing of wires or system costs a lot. This type of hydraulic cable elevator is also called traction elevator.
2. Non hydraulic cable elevator
The non hydraulic cable elevator is without shaft. This type of non hydraulic cable elevator is more flexible and can be set up in house in low budget. This type of elevator is located in private houses. These elevators are designed in 2010. This non hydraulic elevator is smart and sophisticated for private use. After three years USA also launched this elevator. This is the cheapest and customers love this. This non hydraulic cable elevator did not need any shaft, wires or pit which located under the elevator. This is especially designed for low cost budget. It just needed 220v just like other appliances which include power outage.
The home elevator has self supporting dual rails. So, it has no burden on the house. The home elevator is extremely safe. It has advantage than the stair lift. It occupied less space as compared to others. This type of elevator is designed in American houses and changes the life of many people.
3. Chain elevator
Chain elevator needs the chain instead of wires. This needs a counterbalance to move up and down. The chain will move upward when the lift goes downward and vice versa. This chain elevator needs the geared motor which turns the flywheel with the motor. This is more effective than hydraulic cable elevator. Their system must be changed after 20 years rather than the hydraulic needs to change after 5 years.
4. Pneumatic elevator
This type of elevator did not need any shaft or pit. It just needs a vacuum system to power the lift. This type of elevator is self supporting and needs air pressure. This pneumatic elevator is noisy to some extent but it is reliable and much cheap than others.
How much does a home elevator cost?
Home elevator is used before 1990s now the world is advanced and residential elevators are used. There is much improvement in the size and shape of elevator. Now the elevators are designed through advance techniques. The system needs less space and make no noise. The home elevator has different prices which are listed below
Hydraulic Cable Elevators start at $15,000 up to $35,000
Chain Elevators start at $20,000 up to $50,000
Hydraulic Elevators start at $20,000 up to $50,000
Pneumatic Elevators start at $35,000 up to $50,000
The home elevator is much more expensive than the stiltz elevator. It is believed that the home elevator is out dated because this needs a separate system to generate. The residential elevator is best. It takes less space than the other.
Read More: How much is Alex Trebek worth: autobiography, his lifestyle, early life, achievements and many more.
Advantages of home elevator than stairs lift
Home elevator is much more advanced than the stair lift. The home elevator is modern type while the stairs lift is old fashioned. This looks attractive and alternative too. Non hydraulic elevator is more effective in use as it moves faster and quicker up to down and vice versa.
The advantage of home elevator is quite special. The old people, the disabled and the people who have some issues of bones are in ease and comfort by this home elevator. If this home elevator is installed in the house these people do not need any support and can move up and down with the help of elevator. This home elevator is now in many houses in America. Different people set different type of elevators in their houses according to their needs and money.
The other fault of stair lift is that it looks ugly and also blocked the stairs. The home elevator looks classy and graceful you can move with confidence. By just touch a button the lift moved upward or the downward. Another advantage of home elevator is you can move up and down with the heavy language, with your laundry and with all the awkward items. Home elevator is designed for two or three people while the stair lift can carry only one person.
Where should home elevator be installed?
The home elevator can be installed anywhere in the house. It all depends on the choice of owner. Most people installed the lift between two or three floors. Some people wanted to land in bedroom. Some wanted to end it in the lounge. It totally depends on your choice.
How much time it require to install a home elevator?
It depend the quality and the type of elevator. It also depends on the features of elevator and also depends on the floors. Hydraulic cable elevator and chain elevator requires one week to ten days. The pneumatic elevator needs just two to three days while the non hydraulic cable elevator needs just one day.
Frequently asked questions
Which home elevator is best?
Non hydraulic cable elevator is best to use.
Is elevator more comfortable or stair lift?
Of course, elevator is the best to use. It organized for two to three persons while stair lift can carry only one person.
Apart from this if you are interested to know about The Top 5 Reasons to Invest in a Tankless Water Heater for Your Home then visit our Home Improvement category.